Small parcels
will go with Fastway Couriers 2-3 working days
Country Deliveries Large items
will go with Outside Couriers 5-7 working days
Powercity
Next Date for Home Delivery is
Fri 05-Jun-2020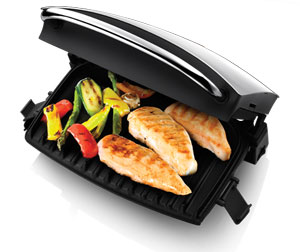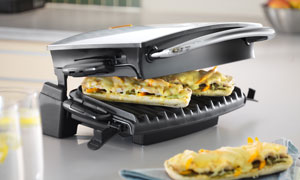 George Foreman 14181 Family Grill & Melt
The George Foreman Family Grill & Melt has an elevated grill feature with an articulated hinge which gives you the option of cooking with a contact grill – perfect for cooking meats, fish, vegetables, or cooking with an elevated grill – ideal for melting cheese on to burgers and sandwiches and much more!
Every home needs a George Foreman Grill. They're amazing for cooking up a quick, lower fat snack and for grilling meat and fish as part of a family meal. It can reduce the fat content of food by up to 42%* thanks to its angled grill design that channels fat away to a separate, detachable tray that can simply be taken off and washed.
Fat reduction is at the core of the George Foreman brand and independent tests have shown that the George Foreman Grill removes up to 42% of fat*. The patented angled grill channels fat and grease away from foods and when the grill is shut, gentle pressure is applied and additional fat is removed.
*Measured against 20% fat content beef burgers (113g).
Key Features:
Elevated grilling
Floating hinge
4 portion size
Non stick grill plates
Metal handle
Compact storage
Endless recipe creations - burgers, sausages, kebabs, toasted sandwiches and mode
Product Information:
george foreman health grill
grill & melt
cooks up to 4 portions
contact grill & elevated grill
grill channels fat and grease in to
separate drip tray
melt mode: elevated grilling
perfect for cheese on toast
garlic bread
tuna melts
mini pizzas etc
metal handle for ease of use
silver finish
non-stick plates
led indicator light
2 plates
removable drip tray
cold side walls
isolated handle
Features:
BRAND : GEORGE FOREMAN

HEALTH GRILL : YES